The 45 and 100 Mile Rides
The 45 Mile Ride is recommended for moderately experienced riders. This route is perfect for the intermediate rider with moderate climbing, SAG vehicle support, and rest stops.
The 100 Mile Ride is recommended for experienced riders. There is relatively moderate climbing, SAG vehicle support, and rest stops along the route.
After an incredible Friday Opening Ceremony, both rides will depart from Augusta University – Summerville Campus early Saturday morning. Both 45 and 100 Mile Riders will ride through iconic and historic parts of Thomson, with both routes finishing in a huge celebration in downtown Thomson. With celebratory food, drinks, and live music, the city of Thomson welcomes you with their southern hospitality to celebrate your accomplishment, so be sure to invite your friends and family to the Thomson Finish celebration.
Register today for the 45 or the 100 Mile Ride!
What Kind of Bike Do I Need for the 45 Mile Ride?
As your duration and distance get longer, you will be more concerned with your equipment's performance and your own comfort. You don't need a pro-level bike to enjoy your ride; however, a road bike will be lighter weight and more efficient than a hybrid or comfort bike for linger distances. That being said, any type of bike is permitted for the 45 Mile Ride. You should expect to be riding for 3-4 hours depending on skill level and time spent at our awesome rest stops. For the 45 Mile Ride, you may also want to consider clothing like cycling shorts and gloves to be comfortable throughout the ride.
What Kind of Bike Do I Need for the 100 Mile Ride?
Investing in a road bike may be worth your while for this distance. A higher end bike is typically lighter in weight and will help complete this distance. You definitely will want to train ahead of time to be able to comfortably complete this distance. Otherwise, you will be sore, uncomfortable and won't enjoy your Paceline ride! Also, the longer you are riding, the more likely the weather will change throughout your trip. Rain and cooler temperatures can make riding more challenging so we recommend being prepared for anything!
Welcome to Thomson, GA Paceliners!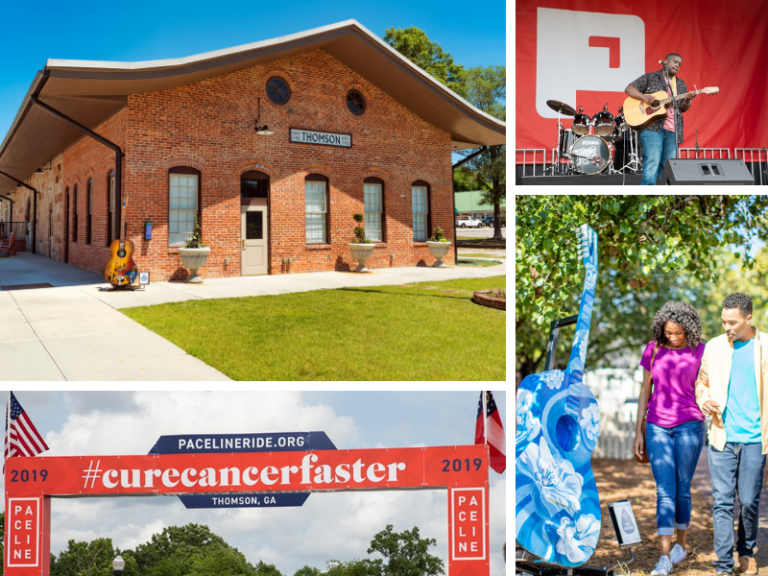 Thomson, in McDuffie County, is a quintessential Southern town, a short drive from Augusta, Atlanta and Athens. The historic downtown has a number of funky antique stores and restaurants. With so much to do and places to stay, Thomson, GA is the perfect finish for your Paceline Ride. For more information of things to do and places to stay, please visit their website.