Many people who are not cyclists are intimidated by a 25 mile distance, but Paceline's 25 Mile Ride is designed for exactly those folks! Remember, this is not an event for cyclists; Paceline is an event for people who want to challenge themselves to raise funds for cancer research. The 25 Mile Ride is perfect for the beginner rider, with little climbing, support vehicles and rest stops.
Quick Stats:
Augusta → Harlem

Mileage: 24.4 miles

Elevation Gain: 1,061 Feet

Difficulty Scale (1-10): 2-3

Bag Check To Harlem: Yes

Shuttles/Bike Transport Back To Augusta: Yes
After an incredible Friday Opening Ceremonies the ride will depart Augusta University – Summerville campus early Saturday morning. The 25 Mile Finish will be a celebration with breakfast and live music. There will be shuttles and bike transport trucks departing from the 25 Mile Finish on a consistent schedule to return you (and your bike) safe and sound back to Augusta University - Summerville.  You will have the ability to check a luggage bag at Opening Ceremonies and the start in case you would like to change clothes at the Finish before shuttling back to Augusta.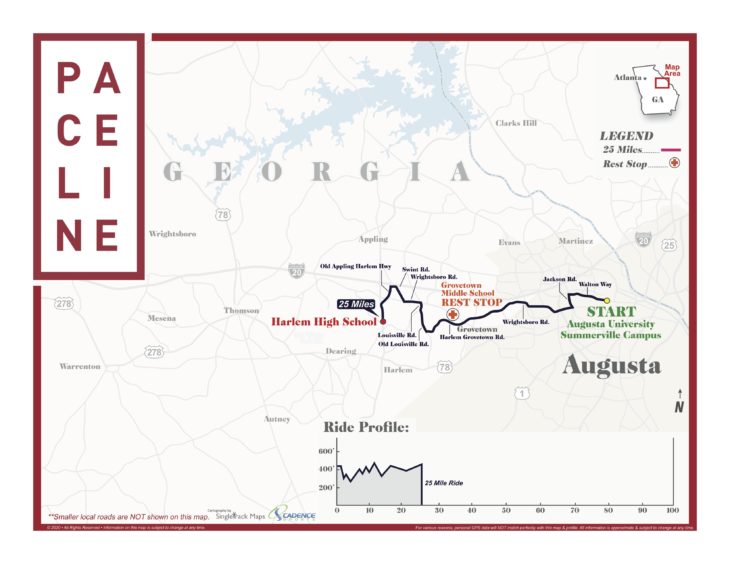 Fundraising goals for the 25 Mile Ride are as follows:
General 25 Mile Rider – rider commits to raise $300
AU Students and Employees 25 Mile Rider - rider commits to raise $250
Young Adult (ages 14-25) 25 Mile Rider - rider commits to raise $250
What Kind of a Bike Do I Need for the 25 Mile Ride?
Naturally, you will need a bike to participate in Paceline, but it doesn't have to be an expensive road bike. It's more important to have a comfortable and safe, working bike for the 25-mile route, so any hybrid, comfort, mountain or road bike will get the job done. Riders are less likely to have mechanical issues for the shorter distances, but having a tune-up ahead of the event is highly recommended. Many Riders also overlook having a bike that is set up well for their body, so we recommend stopping by a local bike shop to ensure it's fitted to you correctly.  For the 25 Mile Ride, Riders should expect to be riding anywhere from 1-3 hours depending on skill level. Again, this is not a race and all Riders are equally winners, so take your time and enjoy the experience.