The Georgia Cancer Center
The Georgia Cancer Center's (GCC) mission is to reduce the burden of cancer in the State of Georgia and across the globe through superior care, innovation, and education. The GCC is made up of the M. Bert Storey Research Building, the Outpatient Services clinic, the Radiation Oncology Center, sections of the Children's Hospital of Georgia and sections of Augusta University Medical Center.
The Georgia Cancer Center at Augusta University brings together a team of basic science researchers, clinicians, radiation oncologists, nurse navigators, and patient support staff to create a community fostering innovation and care focused on improving the lives of our patients.
This team approach is focused on patients across the state of Georgia and neighboring states providing access to more first-in-the-nation clinical trials, world-renowned experts and a multidisciplinary approach that keeps the patient at the center of care.
The Georgia Cancer Center sees nearly 2,000 new cancer patients annually, and over 60,000 patient visits occur at the cancer center annually.
To learn more about the Georgia Cancer Center and the services
it can offer patients, visit our website.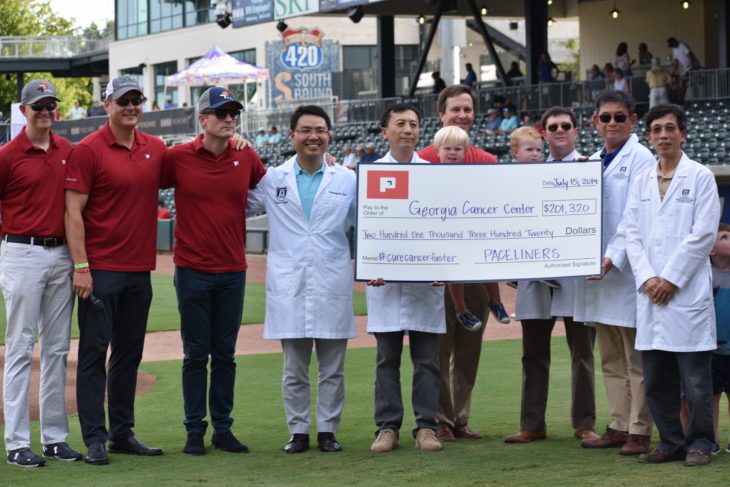 Basic Science Research Programs
The Georgia Cancer Center's M. Bert Storey Research Building is home to four research programs: Cancer Prevention and Control, Tumor Signaling & Angiogenesis, Molecular Oncology & Biomarkers, and Cancer Immunology, Inflammation and Tolerance. In 2018, the cancer center opened a $62.5 million expansion including the Collaborative Connector. The Collaborator Connector was designed to facilitate communication and collaboration between cancer researchers and clinicians, with a goal of promoting translational research in order to develop the next generation of cancer diagnostics and treatments.
Researchers benefit from the Georgia Cancer Center Tumor Tissue and Serum Repository, which includes a variety of specimen types. It also serves as a statewide repository for samples collected from multiple sites throughout the state of Georgia as part of the Bio-Repository Alliance of Georgia for Oncology (BRAG-Onc).
The Georgia Cancer Center houses a dedicated cancer clinical research unit that oversees the center's own Phase I-IV trials and manages studies from throughout the medical center offered in conjunction with oncology departments such as radiology and gynecologic oncology.
One of the clinical trials to highlight is the CC-16047 trial. The (Poly-ICLC) trial was started a little over a year ago in cooperation with Merck and Oncovir. Its primary focus is to see how the addition of Poly-ICLC (Hiltonol) injections improve the efficacy of Pembrolizumab in metastatic mismatch repair-proficient (MRP) colon cancer patients.
The Georgia Cancer Center also manages Georgia's only minority-focused research program (NCORP). Nationally, only about five percent of patients enrolled in clinical trials are minorities. Georgia CaRES is helping to change that paradigm. Georgia CaRES is a National Cancer Center-funded initiative - one of only 12 nationally - that aims to provide minority and underserved cancer patients with more access to the latest cancer clinical trials and treatments, right in their own communities. The 75 clinical trials listed above do not include any clinical trials associated with NCORP.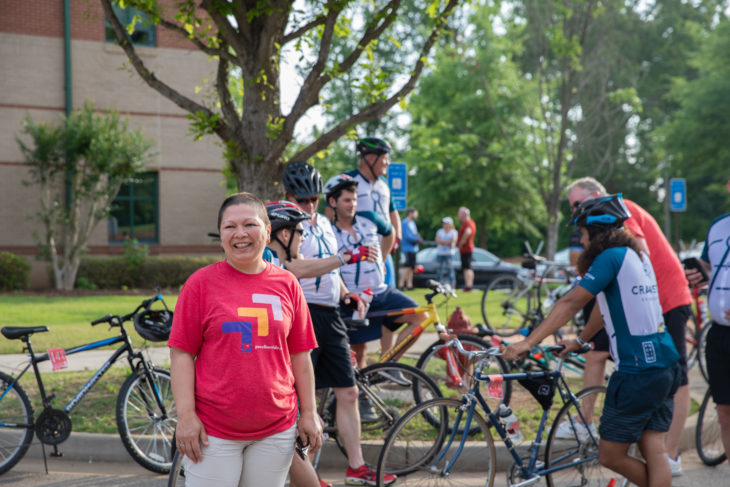 The Georgia Cancer Center's Outpatient Services clinic, which opened in 2010, houses services focused on hematology/oncology, surgical oncology, medical oncology, pathology, radiation therapy, and pediatric cancer and blood disorders, as well as a clinic dedicated solely to first-in-the-nation and other state-of-the-art clinical trials.
The Georgia Cancer Center believes strongly in taking a multi-disciplinary approach to patient care with the inclusion of social workers, dieticians, survivorship coordinator, psycho-social oncologist, pastoral care, nurse navigators, music therapy, pet therapy, chair yoga, support groups, etc. At the Georgia Cancer Center, the patient is placed at the center of the "cocoon of care" and each member of the team protects that patient and provides them with guidance in their specific specialty area.
One area of focus is the Bone Marrow Transplant program. For our catchment area, the Georgia Cancer Center offers the only bone marrow and stem cell transplant program to treat adult leukemia, lymphoma and other types of blood cancer. A team that includes nurse practitioners, inpatient nurses, nurse navigators, social workers, oncology pharmacists, stem cell collection (apheresis) staff, and stem cell processing staff supports each patient. The team also includes specialized laboratory staff for DNA tests, like HLA typing.
Sign up for the latest news about Paceline and Ride Weekend.