Reach out to your friends, family, and colleagues on Giving Tuesday in a personal email asking for support. Here are some things to consider to help you get your email started:
Declare your participation in Paceline: We all have a reason for riding. Thinking through some questions can help you develop your story, which is important for your donors to know. Why have you decided to ride? Why is supporting the GCC important? What does this ride mean to you? What is your goal for distance and fundraising? How do you plan to meet your goals? How has cancer impacted your life? What does this ride mean to you?
Giving Tuesday: Briefly explain to your donors what Giving Tuesday is and make them want to be a part of it. Giving Tuesday is a worldwide movement focused on giving back.
Ask: Ask your donors to give back through Paceline. There are several ways that people can give to Paceline. First, they can give back by simply making a donation to your profile. Second, they can give back by registering to participate in Paceline themselves and committing to fundraising. Third, they can give their time during ride weekend. We encourage you to promote all options in your email and include hyperlinks to make navigation as easy as possible.
Below is an email template that you can feel free to use:
Friends and Family,
Paceline Ride is May 29th and 30th 2020, and I have joined the Paceline!  I have committed and registered for the __ mile ride, and I have a goal to raise $_____, but when I reach that, I'm not stopping.  I want to raise as much as possible because every dollar goes to support cancer research at the Georgia Cancer Center.
There are tons of ways to give back to the community, but this cause truly spoke to me.  I am doing this because I want to be a part of something bigger than myself.  I am doing this so fewer families will have to endure holidays missing loved ones.  I am also doing this for you, because I know cancer has in some way touched your life as well, so I am riding for your loved ones who have been impacted by cancer.
I have chosen to ride ____ miles because ___________.  I want to do something challenging because battling cancer is difficult. Raising money is certainly what will enable the research, but I want the fighters and survivors to know that I am riding this ___ mile route for them. With this goal, as I embark on this journey, I ask you for your support.
Today is Giving Tuesday. GivingTuesday is a day for anyone, anywhere to give, and it's grown into the biggest giving movement in the world. On this day dedicated to giving, I ask that you consider supporting my Paceline fundraiser in a few ways:
Donate to my fundraiser: (insert your link)______________________. No amount is too small, and every dollar makes a direct difference. All donations to my fundraiser will go directly to support research and survivorship at the Georgia Cancer Center. Your support would mean the world to me as I work towards this goal. You can also mail contributions to 720 St. Sebastian Way, Suite 4, Augusta, GA 30901 with my name in the memo.
Come ride with me! Register to ride and commit to also raise funds for the Georgia Cancer Center. We can accomplish so much more together: https://p2p.onecause.com/paceline-ride-2020/home
Give your time. The success of Ride Weekend depends on volunteers, and there are so many times and shifts available. Volunteer registration will officially open in February, but if you're interested in volunteering and raising fund, you can sign up here: https://p2p.onecause.com/paceline-ride-2020/event/paceline-volunteers
Thank you so much for your support.
Signature
For your first social media post about Giving Tuesday, you will want to let your followers know about it a few days before, so they can be prepared on Giving Tuesday. For this post, consider something like the below copy. We have also included a branded Paceline image for you to include in this post.
#GivingTuesday is coming soon, and I want to raise $XX for my Paceline fundraiser. 100% of all donations support research and survivorship at the Georgia Cancer Center: Insert Link to Your Paceline Fundraiser
We encourage you to share your training and fundraising pictures throughout the year! Be sure to tag @pacelineride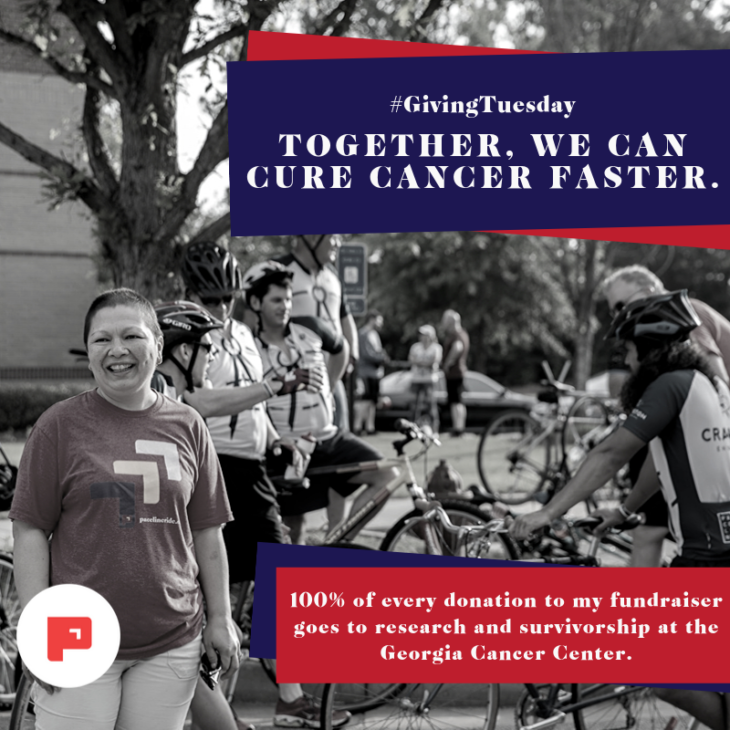 You will definitely want to post on Giving Tuesday to try to reach your fundraising goal. Consider posting something like the below copy and image: