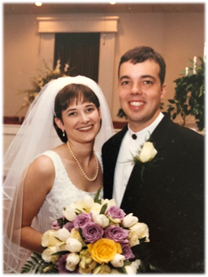 Todd and Sarah Wilson have been married now for 20 years, but that is not the only anniversary they are celebrating this year.  This year is also Sarah's 20th year of remission.  In May of 1999, in the midst of planning their wedding, Sarah began having symptoms that she recognized all too well. Sarah was experiencing similar symptoms as her brother, Brent Lunsford, who passed away from cancer a couple of years prior. After several doctor's visits and being treated with antibiotics for a swollen lymph node, Sarah finally found a doctor who listened to her symptoms. In the middle of what should be a happy and busy time of planning for their future, Sarah was diagnosed with cancer. 
"I was by myself, and I called Todd on my cell phone," Sarah said about receiving her diagnosis. "We were engaged to be married at the time. We planned the wedding and the treatments around each other, so I could feel good for the wedding. We continued as is and went through it. I know most people get a port, but I did not get the port because the neckline on my dress cut low, so I was able to avoid that."
Twenty years later, Sarah and Todd have two children, Brent, 16, and Abi, 12, and spend all their free time together. When they heard about Paceline from a family friend, they knew they had to be involved. Todd started cycling competitively in 2005 and quit racing in 2012 to spend more time with his family. For Todd and Sarah, Paceline hits them at home. Todd is riding 100 miles in memory of Sarah's brother, Brent, and in honor of Sarah.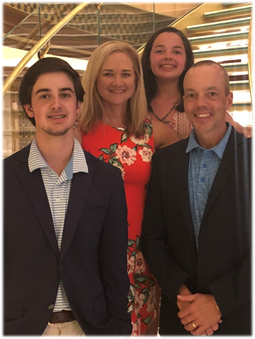 "I've heard Todd say the word grueling, that sometimes the act of riding a bike can be grueling. I think the act of going through chemo and radiation can be as well. I think it puts it fully in perspective," Sarah said. "It's an extreme honor that he is taking on the ride, and I know he can handle the ride. He's been a great supporter, so I am supporting him on this ride."
After Sarah's experience with cancer, joining the Paceline was an easy decision for Todd.
"There are some similarities and parallels with cancer and riding a bike," Todd said. "I think about Sarah going through cancer, and I think about researchers who have dedicated their life to finding cures. If I know my kids, my spouse, my parents, whoever is going through this, I want the best people doing that research, and what can I do to help those people do that research. Well, I can ride a bike, so it was really an easy decision to make," Todd said about his decision to join Paceline. "The ride is really the easy part. The people who are hooked up to chemotherapy drips and taking on radiation, that's the hard stuff."