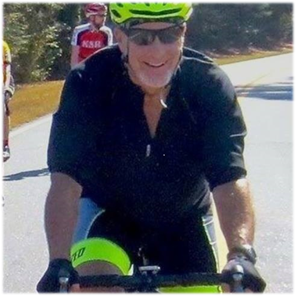 As a semi-retired school principal, when Dr. Ken Sherman is not teaching at the University of Georgia, he spends his time either riding his bike or planning bike rides for philanthropic causes.  When asked how long he has been a rider, Ken simply responds "all my life."  From pedaling around Brooklyn neighborhoods and streets as a kid on a 3-speed Hercules bike, to riding centuries as an adult, Ken sees the potential and value that cycling has to be a force of good.  This is one of the many reasons he has joined Paceline, pledging to ride 100 miles for a cause that is very close to him.
"Cycling is a way of overcoming challenges, and often these fundraisers are about that. It's a good expression—with a little bit of effort you can overcome any challenge. To me, cycling is a great community on wheels," said Ken.
A lifelong cyclist seeking opportunities to use cycling for good, Ken is deeply connected to Paceline's mission.
"About 7 years ago, my annual mileage goal was 7000 miles. Around that time, I was diagnosed with chronic leukemia," Ken explained. "Biking was a way to keep me in good health and fight pathogens. It's a way of affirming every week that I'm okay—I'm healthy. I'm really blessed that I can do that. Last year, after five years of sort of self-medicating through cycling, I finally had to undergo chemotherapy for six months, followed by exploratory surgery. I rode throughout that whole time. It was good for the spirit, good for the soul, and good for the body. There were times where I had to cut back, but I still ended up riding almost 6500 miles for the year."
In the face of cancer, refusing to be slowed down, Ken uses cycling for strength and feels that cycling has bought him the time necessary for treatment.
"I finished chemo last March, and then I had some exploratory surgery last May. What I have is under control and can be dealt with medication. I take one pill a day. It's an oral medication that keeps the cancer under control. This medication did not exist when I was first diagnosed. I feel like I bought myself five or six years, which allowed time for research to come up with more and more treatment. Of course, that's what Paceline is all about."
Ken knows first-hand the importance of research for cancer treatment, and he has felt, like most patients, the pressure of time. Cancer research is a timely and expensive process. Grant funding is largely what fuels research, but funding for research is limited, and for many patients, time runs out. Ken has joined Paceline to ride and raise funds for research for the Georgia Cancer Center.
"People far exceed their own expectations and their own self-perceived limitations about what they can do. 20 miles is very doable. Doing the Paceline, it has your own health, your own enjoyment, but also, you're doing something good for folks and raising money for a great cause," Ken said about riding in the Paceline.
In the world of cancer research, funding is crucial. Without funding, appropriate trials can't be conducted to discover appropriate treatment, much less a cure. Paceline exists for the sole purpose of funding research at the Georgia Cancer Center at Augusta University.