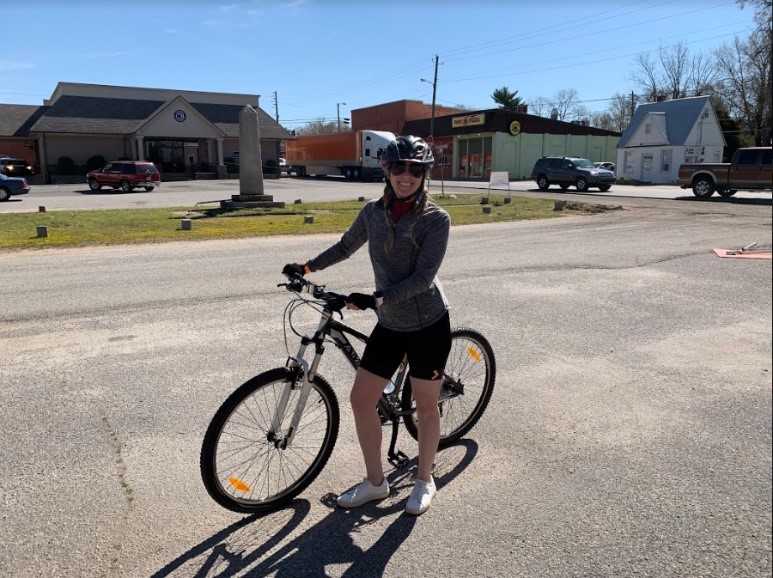 On Saturday, March 23, 2019, the Paceline team traveled to Athens to participate in the Firefly Trail Ride to help train for Ride Weekend and support some of our riders who put the ride in Athens on. Kayle King, Paceline's Corporate Engagement Manager, decided the week before that she wanted to try to ride in this event. Not owning or having ridden a bike in a long time, she borrowed her mother's Jamis mountain bike. Believing it to be a relatively flat course, Kayle started with a goal of riding 20 miles. Being a fairly fit person who does spin classes on occasion, she thought this was an attainable goal. As the ride started, it quickly became apparent that the course was not flat, but rather quite hilly. Taking full advantage of the rest stops, Kayle far surpassed her goal:
I went into this weekend with a goal of doing 20 miles on a road course, with a mountain bike (that I had never ridden before), with hills! LOTS of hills! As I reached the first rest stop at 10 miles, I thought I can keep going. When I got to 20, I thought I'll do 10 more. And then when I got to 30, and I had surpassed my goal of 20, I knew I would be so disappointed if I didn't push it 10 more miles to the halfway point at 40.
It is so hard to explain the feeling that came over me during the duration of the ride. I've heard that cyclists are very passionate about this sport, and now I can see why. Seeing beautiful country side, enjoying the great outdoors, chatting with friends as they ride beside you, while your body is the machine carrying you down the road. It's a mix between feeling powerful and proud. It was also probably the most cathartic thing I've ever done. At one point I was going up a huge hill. I was struggling. I kept thinking I could get off and walk my bike up the hill faster than I was pedaling. And then I was hit with an overwhelming feeling. The reason that I'm here on this bike is because of an organization called Paceline, that raises money to cure cancer. Cancer victims don't give up. Pappy didn't give up. And I will not give up.
I started my journey at Paceline as virtual rider. Then I bumped it up to do the 20-mile ride. And now I'm doing the 45-mile. It is an experience. One that I can't wait to do again!