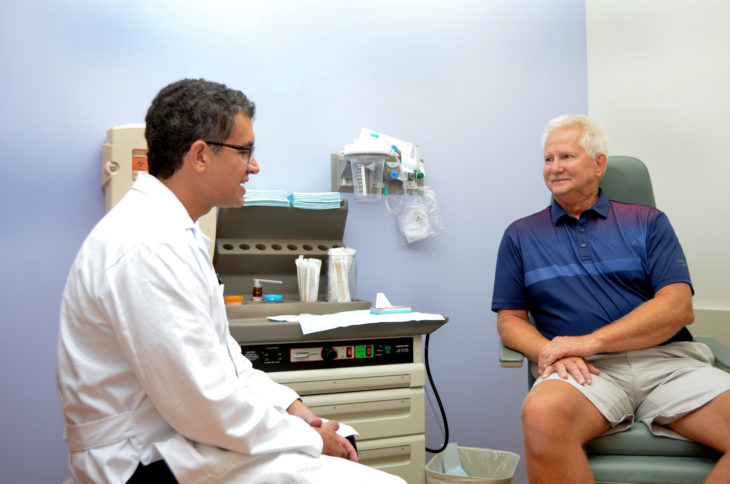 Around four and a half years ago, Steven Northcraft was getting ready for his twins' senior year of high school and football season. During this time, his mother in law unfortunately became ill and passed away. Between the excitement of his children's last year of school and the tragedy of losing a dear family member, Steven disregarded a lump on his throat thinking it was nothing to worry about.
"I was actually in a situation where I waited too long because I was considered stage. I had felt a lump in my throat, and I never once thought about cancer. I went to a prompt care and was told I had to go and get it scanned immediately. I was referred to the Cancer Center. "
Steven was referred to Dr. Byrd and his team for treatment.
"Dr. Byrd took a look at my case and decided the treatment for it, which was a combination of chemo and radiation. One of the toughest things was having my children see me go through it. It was their senior year of high school. It was tough for them because they didn't know. I didn't either. Dr. Byrd really made my journey a lot easier. He told me the truth, exactly what my chances were, what I was getting into. One of the things that stuck in my mind was the problems I was going to have swallowing, so I worked and did everything they told me to do. I went through all the training and exercises to prepare myself."
Treatment for Steven was problematic in some ways because he suffers from claustrophobia. Some of his radiation treatment required him to be in small spaces wearing a mask. Working with his treatment team, they came up with solutions to make the experience as easy as possible for him during treatment and afterwards by informing him of risks.
"It was a struggle. The whole process. When the treatment ended, I was burned inside, but I forced myself to eat every day. A small thing of yogurt would take an hour and a half, but I made sure I ate because a feeding tube was a possibility and I didn't want that. No matter how hard or how much I had to work, I made myself go through it."
Four and a half years later, Steven attends follow-up checkups with his wife by his side. With the fear of the cancer returning, Steven understands how critical following up regularly with Dr. Byrd is.
"They know who I am when I walk in, which was good that's the kind of relationship they have; they know their patients. Dr. Byrd has been with me from the beginning. I feel so good when I walk out of here each time. You know, I was scared to death; there's no doubt about it. I had been healthy. I had no issues of any type. I was so confident in the team that I never even got a second opinion. You sit back and look at it, something this critical in life, and they made me feel so comfortable with it that I never even thought about getting a second opinion. I've referred people here since then. I had something bad, but it could have been a lot worse. I'm pretty much back to normal, staying active. It makes you pay a little more attention than what you did before. Overall it was a bad experience to begin with, but it turned into a good journey."
According to the American Cancer Society's Cancer Facts and Figures 2019 Report, 17,880 Georgians will die from cancer this year. Research at the Georgia Cancer Center continues to focus on the most promising pathways for the prevention and treatment of cancer. Join the Paceline and ride to raise funds for critical research and survivorship at the Georgia Cancer Center. 100% of every dollar raised by riders goes directly to the cause. Together, we can cure cancer faster.