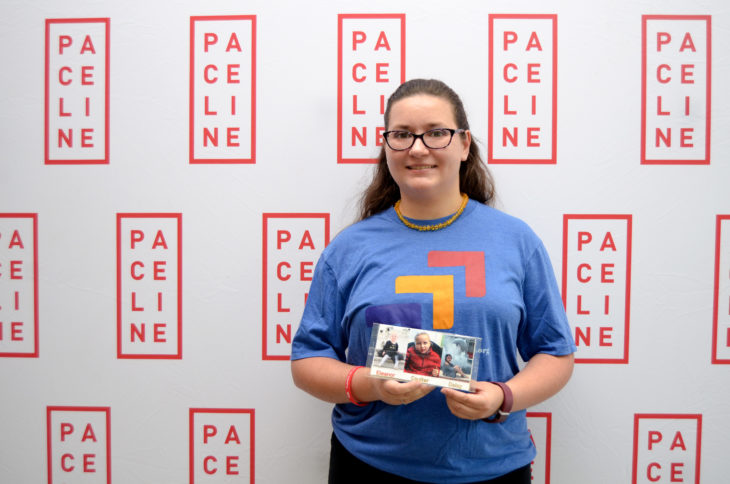 Just a couple of weeks before Paceline's inaugural ride, Caryn Bird, a Graduate Research Assistant, heard about the event and decided to join, even though there was not a whole lot of time to prepare. She fished her old bike out of storage, repaired one of the tires, and got ready to ride.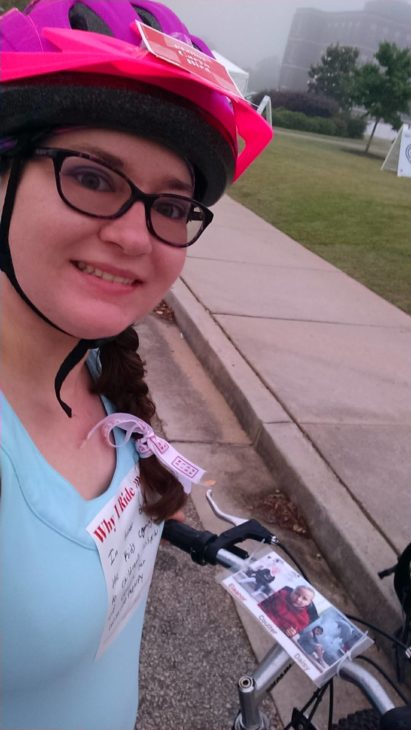 "Everybody getting behind this ride inspired me to join as well, once I got my bike fixed. During th e ride, I was not really prepared as I should have been, but others were inspiring me to keep going and were encouraging me as they were going by. I think in preparation 6 miles was the most I did at one time, so I wasn't sure if I would be able to make it all the way to 20 miles or not, but the support from the people in the SAG vehicles was awesome. They would encourage me to keep going, or if I needed a break to sit in the van for a while until I was ready to get back out and keep going."
Caryn is a Graduate Research Assistant at the Georgia Cancer Center in the Laboratory of Theodore S. Johnson, M.D., Ph.D. Dr. Johnson's laboratory researches cancer immunology and pediatric immunotherapy treatments. Caryn easily was motivated to push herself for the 20 Mile ride.
"I rode in honor of all the kids coming to the Children's Hospital of Georgia for Immunotherapy. They're my inspiration to keep going."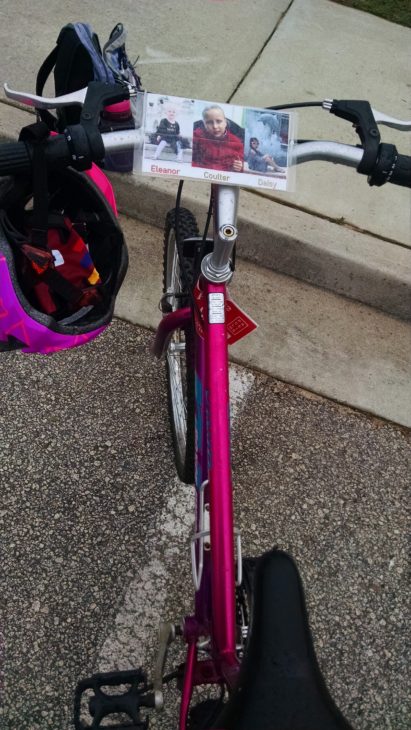 For the ride, Caryn adorned her bike with a photo on the handlebars of two Children's Hospital of Georgia Immunotherapy patients and another cancer patient from Florida.
"I have this picture of 3 kids who are currently fighting cancer on the handlebars of my bike to inspire me because I knew I was going to get tired throughout the ride. When I was about 2 miles from the finish line, I started to get really tired and not really wanting to go on. I looked down, and one of the kids, Coulter, his favorite saying was, 'Never give up.' I just looked at the picture, and I heard him say, 'Never give up Caryn. You can keep going,' so that inspired me to keep going to the finish line. It was a great experience, and I learned so much."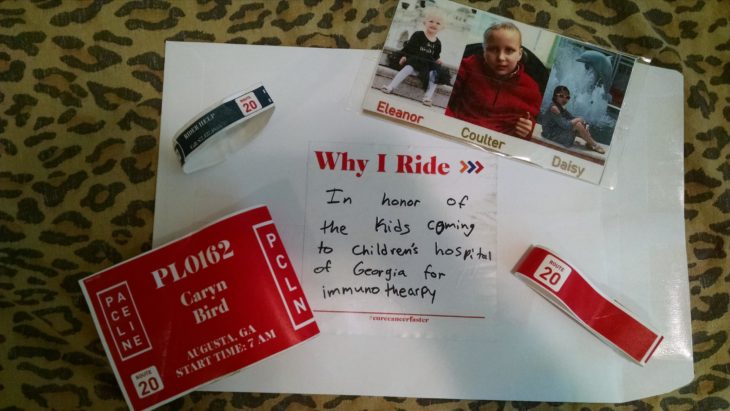 The Georgia Cancer Center is actively working to bring clinical trials to pediatric patients. Historically, when compared with adult cancers, very few clinical trials for childhood cancers exist, and many of the most cutting-edge therapies may not make it to children
for a decade or longer after being approved in adults.
The Georgia Cancer Center is changing this. For example, our center is the only one in the nation offering a pediatric clinical trial for the immunotherapy drug Indoximod to children diagnosed with brain cancer. The drug was developed here at the Medical College of Georgia at Augusta University. Patients from all over the nation are now coming to Augusta to enroll in this clinical trial.
Grant funding is essential to advance cancer research phases and clinical trials. Join the Paceline and ride to raise funds for critical research and survivorship at the Georgia Cancer Center at Augusta University. 100% of every rider raised dollar goes directly to the cause. Caryn challenged herself and rode 20 miles for the pediatric immunotherapy patients. We all have a reason to ride. What's your reason?
Caryn Bird—Graduate Research Assistant, Laboratory of Theodore S. Johnson, M.D., Ph.D., Augusta University, Georgia Cancer Center, 20 Mile Rider